This article was originally published in October 15, 2004 on the website sportshooter.com Some gramatical errors and typos were corrected in the version.

Definitely Not Lost In Translation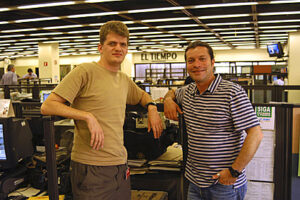 I had one special assignment this September, One I almost missed deadline for, One I barely took a photo during and one that was the closest to my heart.
Of all the places in the world to travel my first international exhibition would be Colombia and it chose me. I say that because as many great assignments happen it came out of left field, but proved to be the most rewarding trip I have taken.
Telling friends and family I asked to show my photography to Bogotá, Colombia, the usual jokes about kidnapping, drugs, and civil war came up, and to boot, I didn't know a word of Spanish before I arrived.
As Bill Murray can a test to, I could have been lost in a society completely different in a language and custom I didn't understand, But, I can say with a resounding furor, that my trip couldn't have been farther from the truth.
It was almost the trip that started in disaster as I decided to use a travel agent instead of booking online and it almost put a death nail in my official opening.
I only had 23 minutes between terminals at Toronto's Pearson International Airport to catch my flight. I begged and pleaded with any Air Canada employee that I needed on that flight and how my show opening was the next day.
Running through the terminal as fast as my feet and a bag full of gear could carry me I raced from one end to the other, and panic was setting in. 511, 512, 513, 514 where is my gate. . . . "Final boarding call, paging Mr." . . . "Dall" I almost yelled and presented my ticket.
At that moment I knew the photo gods were looking at me kindly and wanted me to have a good trip.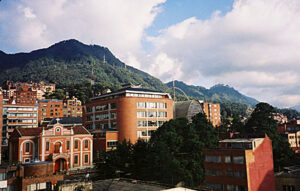 I awoke in Bogotá, the next morning to find myself breathless, with the beauty of the mountains behind my hotel room and with the altitude of 2, 600 meters (approximately 8,500 feet) that would take me a few days to get used to.
The opening of my show was warmly received by a collection of ex-pats and Colombians. To fully capture the attention of the audience while talking about my experience of the north, and how to live in an igloo was an event full of bliss.
Colombian people, rich and poor, enjoy the arts like no other society I have seen yet. The National University where I was displaying my work stopped teaching classes for a week just to celebrate arts and culture.
Colombia doesn't have a huge tourist trade and few people think of it as a place to visit due to the stereotypes mentioned above. It is still a dangerous place but I also had many people who helped me out, whether it was embassy staff, friends from the University or the girl who gave me a private tour at the Botero Museum to help get me home in one piece.
The welcoming nature of most of the people I met was amazing, many were surprised that I was chosen to come to their country to put on my first international show.
Most Colombian people will bend over backwards to show you their country is much more than drugs and civil war and regardless of whether I was walking around town as just another foreigner or as a visiting international artist, the people were just as friendly.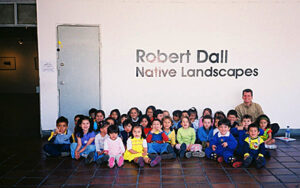 As I was touring the University with the co-coordinator of my show Diane Beltran I ran into a group of 40 children who were touring the museum. I stopped and gave them a tour full of actions and with the help of my friends at the museum who was translating.
Seeing those captive children asking so many questions, like what does snow taste like? I really knew why I came down. It wasn't for me, nor to showcase Canada, but to captive people young and old, and to reach out to another and see that even without language you really can communicate without saying anything at all.
My second week was no less entertaining, I spend Monday and Tuesday at El Tiempo, Colombia's National Newspaper, I heard rumours of Canon's 1DS Mark II, but never did I think while in South America would I see one of Canon's new line so shortly after its release in Photokina.
Canon Latin American was there showcasing their product to the Canadian-born Photo Editor Richard Emblin (and Black Star photographer) and his staff of a dozen locally based photographers who still use those black-lensed cameras.
The next day I was invited out by one of their photographers Martin E. Garcia. Where we travelled to La Vega, one hour south of Bogotá, to an ecological park and operating fish farm. We were treated to a trout even if it was moving day at the operator's home. El Tiempo has some great photographers, they have a real passion for capturing the image and they are able to get into and out of some of the more conflict-riddled regions of the country with amazing ability. I hope Martin will join ss.com in my opinion he would be a welcomed addition.
I can also say that to all you Canucks out there we are well served by our Embassy staff and Foreign Affairs Canada who work long hours showcasing our country aboard and being more than helpful to this Canadian photographer.
If it wasn't for ss.com this show would have also been a lot harder, the private galleries, made the construction of the show so easy for the likes of me. It made the visual communication with organizers half a world away simple. The message boards were full of advice about the city etc. But ss.com has been more than a place to store some images and get some quick information. I feel it has helped refine my style and made me search more for that one image. I truly couldn't have done the show without this website.
I'd like to return to Colombia, with Spanish, and do a lot more photography with local NGOs there. It was great to see an amazingly diverse and culturally rich society. I also had a social network of enough friends and other photographers that my trip was never lost in translation.
This article was originally published in October 15, 2004 on the website sportshooter.com Some gramatical errors and typos were corrected in the version.