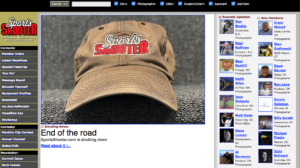 This blog post is part of a four part series to archive my blog posts from the site sportsshooter.
The first really "social network" I was part of on the internet was actually called Sportsshooter. It started as a blog/newsletter by USA Today Staff photographer Robert Hanashiro or Bert. I heard about this site via a visit to the Edmonton Journal way back on what ended up to be a very eventful weekend back in September 2001.
The site gave me insight in how real photographer covered huge events across the world.
I was living in Yellowknife at the time and Canada's Arctic is an exotic far off land. But how do I get it an article in this amazing trade publication.
Enter the Arctic Winter Games stage left:
That summer Sportsshooter envolved into a full featured site with photographer profiles, message board, classified adds, and yearly conferences called a Luau.
To say Sports Shooter had a influence in my photographic career would be an understatement. It was a real benefit to me being in single photographer in a small town get feedback suggestions or inspiration for ideas to use. So I am saving what I wrote there here for posterity.
Articles written for Sportsshooter: